Thornton Heath shooting victim 'not intended target'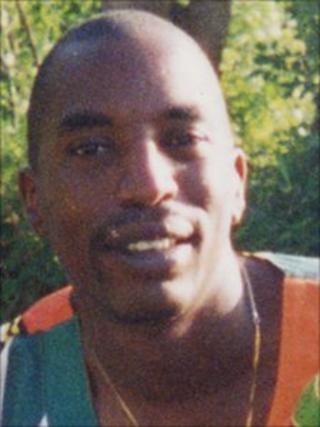 A man shot dead when two masked gunmen burst into his home is not thought to have been the intended target, according to detectives.
Carlton Ned, 41, was shot in the chest when the men opened fire at the property in Langdale Road, Thornton Heath, south London, on Friday morning.
Mr Ned died at the scene and a 50-year-old woman suffered minor injuries.
Police have been searching for two balaclava-clad men who ran off towards London Road.
The men wore dark clothes, one was described as being 5ft 9in and the other 5ft 2in with light-brown skin.
Three people were in the property at the time of the attack and the woman who was treated for minor injuries has since been discharged from hospital.
Det Ch Insp John Crossley, said: "Two men who were armed and had their faces covered entered the house and fired a number of shots.
"Mr Ned, who we do not believe to be the intended target tragically died at the scene."
He appealed for anyone who knew who was responsible for this "dreadful attack" to contact them.
Detectives from Operation Trident, which investigates gun crime in London's black communities, said they were keeping an open mind as to the motive for the killing.