Singer Pete Doherty released from prison early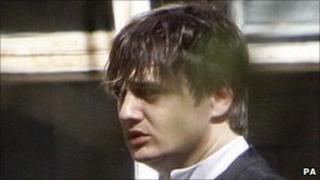 Singer Pete Doherty has been released from prison early, after being jailed for cocaine possession, according to his official website.
Doherty, 32, of Camden, north London, was jailed for six months in May after pleading guilty to possessing the drug.
His website Albion Rooms said: "On this bright sunny morning Peter was released from prison and thanks everyone for their valued support whilst inside."
A Prison Service spokesman said: "We do not comment on individual prisoners."
"Home Detention Curfew (HDC) is available to low risk prisoners serving sentences of more than three months and less than four years, who are deemed appropriate for early release," the prison service spokesman added.
'Special show'
The Albion Rooms is billed as the repose of Peter Doherty, poet, musician and artist.
Meanwhile, The Blues Kitchen in Camden has announced the singer will be performing a "very special matinee show" on Saturday.
"This will be his first show since his release from prison," the website added.
As well as performing solo material, Doherty sings in bands Libertines and Babyshambles.
He had been charged with cocaine possession after an inquiry into the death of filmmaker Robyn Whitehead in January 2010.
Ms Whitehead, 27, was making a documentary on Doherty when she was found dead in a flat in Hackney, east London.
Toxicology reports found she had died of heroin poisoning.