RSPB swift survey tackles falling numbers in London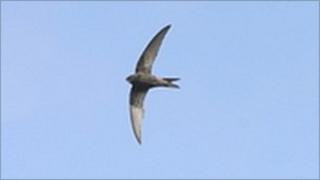 Londoners are being encouraged to report sightings of swifts to halt a decline in numbers of the bird.
The RSPB say the swift population is falling in the capital due to a lack of nesting sites and wants to get a better picture of how many live in the city.
It has helped install nest boxes at the Olympic Park, New Scotland Yard's offices and other police stations.
It is hoped the RSPB survey will help identify existing nesting sites so they can be given protection.
Swifts can be identified by their scythe-like silhouette and piercing, screaming call.
Martyn Foster, from the charity, said: "We desperately need more information about where they are breeding.
"Then we'll be able to protect existing nest sites and identify key London areas where we can provide extra help for swifts."
Nooks and crannies
According to the RSPB the current warm and damp conditions are building towards the annual flying ant swarms that swifts thrive on.
The birds, especially the young, eat the ants to boost their body mass and get fit for the long migratory journey across Europe and on to Africa for the winter.
This should provide an opportunity to spot the birds and sightings can be recorded on the RSPB's online survey.
The survey will close once the swifts have left the UK, which is usually at the end of August or beginning of September.
The RSPB has listed swifts as amber - the middle of its three-colour grading system for species at risk.
Mr Foster said: "If numbers of swifts continue to fall at their present rate, we'll soon see them in the red, emergency category.
"The big issue for swifts in London is a lack of nest sites. They use nooks and crannies in our homes and offices but as we all seek to insulate our homes to save energy and money, we seal off their nests."