London statute for Nobel winner Rabindranath Tagore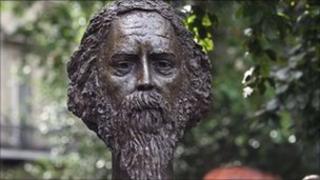 A bust of Nobel Prize-winning Indian poet Rabindranath Tagore has been unveiled in London by Prince Charles.
Tagore was the first Asian to win the award, in 1913, which was for his collection of poems titled Gitanjali.
Unveiling the £50,000 bronze statue in Gordon Square, central London, to mark the poet's 150th birth year, Prince Charles said the inscriptions will "shine out as a beacon of tolerance".
Tagore Centre UK said it hoped to raise £15,000 towards the cost of the statue.
'Dark anniversary'
The sculpture, by Shenda Armery, is located close to Tavistock Square where six years ago one of four suicide bombers detonated a bomb in a bus.
Unveiling the bust on the anniversary of 7 July bombings, in which 52 people were killed, Prince Charles said the date "marks a dark anniversary".
"From this darkness, perpetuated only a stone's throw away from here, the inscriptions on this bust will shine out as a beacon of tolerance, understanding and of unity in diversity," he added.
The Nobel Prize medal awarded to Tagore for literature was stolen along with some of his other personal possessions from a museum in the east Indian state of West Bengal in March 2004.
Sweden's Nobel Foundation replaced the stolen medal with two replicas in December that year.