Haringey 'decent homes' improvement programme delayed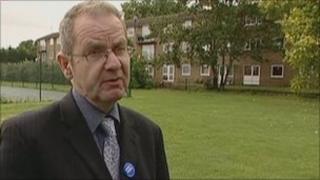 Improvements to thousands of council homes in north London have been delayed due to funding cuts.
More than 9,000 Haringey Council tenants have been told work to upgrade kitchens and bathrooms will not go ahead for at least another year.
The council said it had no option but to revise its Decent Homes programme and prioritise essential jobs after the government cut £50m from the budget.
Frustrated tenants say they fear the work will never go ahead.
The Decent Homes programme was set up by the Labour government. The coalition has said it is cutting the budget, impacting on councils across London.
Haringey Council said as a result of this the focus would now be on windows, doors, roofs and crucial health and safety works, such as rewiring.
Massive blow
It said it was not in a position to wholly replace kitchens or bathrooms in the next two years but repairs would continue as normal.
Resident Paul Burnham, who is from campaign group Defend Council Housing, said it was very frustrating.
He said: "I've lived in my home for 10 years and all that time there has been investment needed.
"The last government promised a decent homes standard, they delayed it and delayed it, now it's been delayed and cut even more. We're worried it's ever going to be actually finished."
Haringey Council Leader, Councillor Claire Kober, said: "The government's funding cut deals a massive blow to residents across the borough who have waited patiently to see new kitchens, bathrooms and windows installed.
"With the reduced resources at our disposal we will continue to maximise every penny so that we can improve as many residents' homes as possible.
"However, given the scale of the cuts some residents may unfortunately miss out."