Lottery investment in London's parks reaches £100m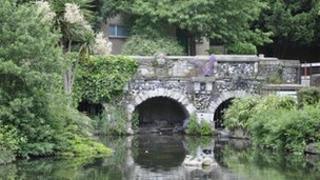 Lottery investment in London's parks has passed the £100m mark after two parks became the latest to receive support for restoration work.
Walpole Park in Ealing and Raphael Park in Romford will share £4.1m from the Heritage Lottery Fund (HLF).
They join a list that includes Battersea Park, Victoria Park, Russell Square and Bushy Park.
It takes the total amount given by the HLF to the capital's parks and gardens to just over £100m in 16 years.
Since the mid-1990s there has been a renaissance for many parks, with conservation schemes, refurbishment programmes and community-led restorations springing up across the country funded by the HLF.
The Heritage Lottery Fund grant will enable essential conservation work at Raphael Park including the restoration of the Park Lodge to provide a cafe, community and education resources and a base for the park manager.
Havering Borough Council will also offer a varied range of volunteer activities including the provision of guided walks and talks.
Hidden heritage
At Walpole Park, Ealing Council aims to reveal the site's hidden heritage, restore the park to its original beauty and improve its visitor facilities.
The park will undergo major conservation to recreate its Regency planting and reinstate the kitchen garden.
Ealing Council will also provide extensive volunteering opportunities aiming to work with over 150 volunteers a year, as well as educational activities for the local community.
Wesley Kerr, chairman of the Heritage Lottery Fund London Committee, said: "Walpole and Raphael Park are among the best parks in their boroughs and in London.
"With historic landscapes, towering trees, water, play, sport, and recreation facilities - as with so many of our parks, some of the best features have become tired or emasculated.
"However with this investment from HLF these will be restored."
In addition another three London parks have received joint HLF / Big Lottery first-round development funding totalling just over £200,000.
West Hackney Recreation Ground, Alexandra Road Park in Camden and Plashet Park in Newham will use the funding to submit fully developed proposals to compete for a full award.