Plaque marks football club's west London birthplace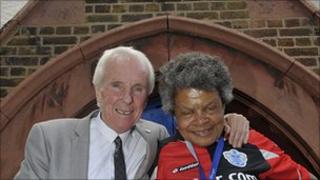 A plaque to celebrate the 125th anniversary of Queen's Park Rangers (QPR) Football Club has been unveiled at the club's west London birthplace.
The club is usually associated with Shepherd's Bush where its Loftus Road ground is based.
But the plaque at St Jude's Hall in Queen's Park will mark the club's true birthplace in the late 19th Century.
The plaque is part of Westminster council's green plaque scheme to commemorate historic sites in the city.
Former QPR footballer Stan Bowles, who unveiled the plaque, confessed he had no idea of the site's history.
"I used to hang around here all the time and I had no idea this was QPR's original home so I think this is a fantastic idea to mark the spot," he said. "It's a great honour, as QPR is very special to me."
New partnership
The event's organisers - QPR, Westminster Council and CityWest Homes - hope that the plaque will inspire a generation of young footballers in Westminster to follow in the footsteps of QPR legends Les Ferdinand, Rodney Marsh and Stan Bowles.
QPR and CityWest Homes, who manage St Jude's Hall, have now embarked on a new partnership to benefit local residents in Queen's Park.
The QPR story began in 1882 in a newly-built residential estate of West London, with the formation of two local youth teams, St Jude's Institute and Christ Church Rangers.
When the two teams amalgamated in 1886 Queen's Park Rangers was the name chosen for the new club because the members were based in the Queen's Park district of west London.
Westminster ties
Westminster Council's deputy leader Robert Davis, said: "It is a great pleasure to mark the birthplace of Queen's Park Rangers and the club's ties with this area of Westminster.
"The plaque serves as a reminder of how, through hard work and dedication, grassroots sports can blossom."
Darren Levy, director of customer services, said: "QPR and CityWest Homes will be working together to provide a range of activities for residents in the Queen's Park area - young and old.
"The event at St Jude's hall is a very promising start to what we hope will be a great partnership."
To date, a total of 96 plaques have been erected by Westminster Council, with others honoured including Oscar Wilde, TS Eliot, Jane Austen, Terence Donovan, Siegfried Sassoon and the Bee Gees.