Met's John Yates 'must resign' over phone hacking scandal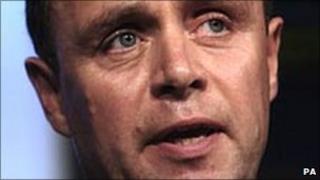 Two MPs have called for Scotland Yard's Assistant Commissioner, who in 2009 ruled out a further inquiry into the phone-hacking scandal, to resign.
Speaking in parliament, Labour's Chris Bryant (Rhondda) accused John Yates of "repeatedly lying" to MPs.
His Labour colleague Tom Watson (West Bromwich East) said the detective's position was now "untenable".
In a letter to the London mayor, Mr Yates stated the responses he gave him in 2009 were given "in good faith".
Speaking as Culture Secretary Jeremy Hunt told the Commons that News Corporation's attempt to fully takeover BSkyB would be referred to the Competition Commission, Mr Bryant said: "One of the biggest problems we have here is that the police did fail to act systematically.
"Assistant Commissioner Yates repeatedly lied to parliament. He said that there were very few victims. He said all the victims had been contacted. He said all the mobile phone companies had been put on notice in relation to this.
"He is in charge of counter-terrorism in this country for heaven's sake. Surely he should resign?"
'In good faith'
Mr Watson said Mr Yates "would have been aware" of convicted private investigator Jonathan Rees discussing the use of covert surveillance techniques, including computer hacking, with an associate of News International chief executive Rebekah Brooks.
In the letter to London mayor Boris Johnson, Mr Yates said: "I briefed you on the basis of what I had established at the time. You sought certain assurances from me that the initial inquiry had been thorough.
"The responses I gave you were in good faith.
"The reason that the new investigation has been opened and the situation has subsequently changed is that in January 2011 News International have begun to co-operate properly with the police.
"This was not the case beforehand.
"This has caused the new team to look more closely at information contained within the original material. The emerging findings are rightly a matter of great public concern.
"It is a matter of great regret that this co-operation was not forthcoming earlier. Had it been, my decisions and my briefing to you would inevitably have been very different."
The Mayor has made no comment regarding the letter.