Learco Chindamo trial: Robbed man 'disrespected' killer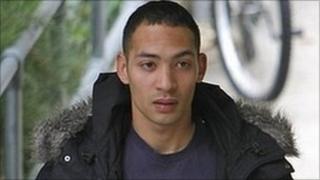 The killer of headmaster Philip Lawrence demanded a teenager hand over money because he showed "disrespect" by not recognising him, a jury has heard.
Learco Chindamo, 30, had approached David Sexton at a cash machine in Chalk Farm Road, Camden, north London, in November, with two of his friends.
He asked him "do you know who I am?" before demanding "compensation" when he said he did not, the court was told.
Mr Chindamo, Gregory Jananto and Saeed Akhtar, both 32, deny robbery.
Blackfriars Crown Court has heard Mr Chindamo used his conviction for murdering Mr Lawrence in 1995 to frighten Mr Sexton, who was 19 when the alleged robbery took place.
Oliver Glasgow, prosecuting, said Mr Chindamo, Mr Jananto, of Shepherd's Bush, west London, and Mr Akhtar, of Camden, had been standing by the cash machine waiting for a "suitable target".
'You are vulnerable'
Mr Chindamo was freed in July 2010 after being ordered to serve at least 12 years in jail for the murder of Mr Lawrence, 48, in Maida Vale.
Mr Lawrence was fatally wounded outside St George's Roman Catholic School after going to help a pupil who was being attacked by a gang, which included Chindamo, then aged 15.
The court was told Mr Chindamo asked Mr Sexton: "Do you know who I am? Do you know what I've done?"
When Mr Sexton said he did not, Mr Chindamo "asked for compensation for disrespecting him and his friends", Mr Glasgow said.
Giving evidence, Mr Sexton said he decided not to walk away but handed over £20 when a bottle was "waved" towards him.
Mr Sexton said: "When you turn your back you are vulnerable.
"When someone is waving a bottle towards you, you don't turn your back."
"It was threatening, it seemed safer to hand it over than not to."
Mr Glasgow said: "These claims of disrespect were, of course, no more than a cover for Learco Chindamo brazenly to frighten David Sexton into giving him money - there was no disrespect, there was no compensation needed.
All three defendants "threatened and intimidated" Mr Sexton, also "frightening his friends from coming to his aid", the court heard.
'Chilling warning'
When Mr Jananto approached Mr Sexton with the bottle, Mr Chindamo warned the victim.
Mr Glasgow said: "In a chilling warning to David Sexton, Learco Chindamo said: 'This is my guy from the day, he stabbed up my witness from last time'.
"It was clearly a reference to Jananto's conviction for witness intimidation.
"Not only was Learco Chindamo proud of what he had done in the past, it seems he was similarly impressed with what his friend Gregory Jananto had done."
The jury also saw CCTV of the confrontation at the cash machine, where Mr Sexton could be heard saying, "he's a murderer".
Mr Glasgow asked him to clarify whether he said, "I'm not getting stabbed by a killer," or "I'm not being stabbed for a tenner".
He replied: "For a killer."
The alleged victim could also be heard telling friends they did not want the police to be called as it was just "aggro".
Defending Mr Chindamo, Tyrone Smith said it was Mr Sexton who had begun the row because he recognised the head teacher's killer.
He said: "Maida Vale is where St George's School is, where Mr Lawrence was murdered by Mr Chindamo. That school is not very far from where you live.
"What I am going to suggest is you recognised him before you got to the cash point."
Mr Smith added that shortly after the cash machine incident Mr Sexton, who had had 11 pints, was arrested after a row at a kebab shop which was "smashed" up.
"I am going to suggest Mr Chindamo was angry you had the temerity to point out what he had done in the past and he was telling you this was outrageous and said, 'I am not proud of anything I have done in the past'," he added.
Mr Smith said the incident was not a robbery as the defendants had not asked for Mr Sexton's Pin number.
The trial continues.