Call to save London Metropolitan Police sergeant jobs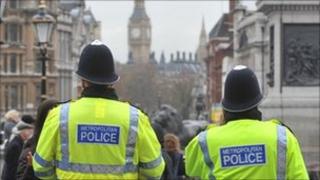 Labour's London mayoral candidate Ken Livingstone is launching a campaign to protect the jobs of police sergeants.
He said the Save our Sergeants initiative was in response to plans to cut Safer Neighbourhood Team sergeants.
In February 2011, London mayor Boris Johnson announced plans to cut 300 sergeants' posts from the capital's 630 Safer Neighbourhood Teams.
The mayor's office said community policing teams may share sergeants but no-one would be made redundant.
Budget cuts
Over the summer 600 Safer Neighbourhood Team sergeants will have to reapply for their jobs.
Kit Malthouse, deputy mayor for policing, said over the next three years up to 300 Safer Neighbourhood Team sergeants may be redeployed to core police teams across all boroughs which need more help in tackling crime.
He said the purpose of this was to strengthen the number of officers seen on the streets whilst maintaining Safer Neighbourhood Teams.
Police forces across the UK face up to 20% budget cuts.
Metropolitan Police Authority figures show there are plans to cut the number of police officers in London by 1,800 between 2011 and 2014.