Royal Brompton wins review of heart unit closure plan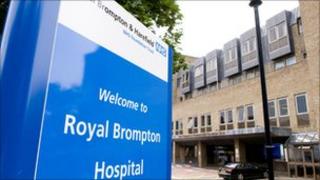 A London hospital has won the right to challenge a consultation it claims has threatened the closure of its children's heart surgery unit.
The Royal Brompton in Chelsea, west London, was given permission to seek a High Court judicial review into the "deeply flawed" process.
It has argued that closing the unit would put the viability of the whole hospital at risk.
Mr Justice Burnett said there was "an arguable case" that should be heard.
The Royal Brompton has the largest specialist heart and lung centre in the UK.
Public consultations
The hospital's services were scrutinised by the Joint Committee of the Primary Care Trusts of England as part of a national review aimed at streamlining paediatric congenital cardiac surgery services (PCCS) around the country.
The review concluded with a proposal to end child heart surgery at up to five hospitals, as evidence showed larger units had better results.
In London, children's heart surgery would be carried out at Evelina Children's Hospital and Great Ormond Street Children's Hospital if the review body's recommendations go ahead.
Bob Bell, chief of the Royal Brompton Trust, said: "This is extremely good news, first and foremost for patients.
"We have always supported the principle that all babies and children who undergo heart surgery deserve the best possible care.
"But decisions about the future of such vital services have to be made on the basis of sound, objective evidence, and the decision-making process must, of course, be entirely transparent.
"These conditions were not met by those responsible for this review."
Jeremy Glyde, director for Safe and Sustainable, an NHS review of children's heart services, said: "We welcome the opportunity to present its evidence and will do so robustly.
"The rationale for change is supported by medical experts, professional associations and leading national heart charities."
The judge directed that the full hearing should take place over three days in September.
It is believed this is the first legal challenge of its kind to be brought by one NHS body against another.