DLR suspended by Canning Town recycling plant fire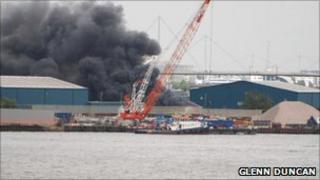 Services on part of the Docklands Light Railway (DLR) had been suspended following a major fire at a recycling plant in east London.
Six fire engines and 30 firefighters were sent to the scene at Dock Road in Canning Town on Monday afternoon.
The DLR had been suspended between Canning Town and West Silvertown as the fire was close to the tracks.
The blaze was brought under control just before midnight and DLR services are running normally on Tuesday.