Man robbed in Whitechapel of money for wife's funeral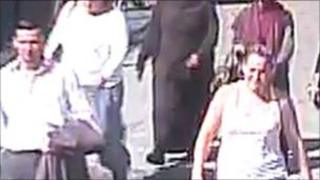 A 77-year-old man has been robbed of thousands of pounds in east London after withdrawing money to pay for his wife's funeral.
The man was followed after a visit to Barclays Bank near the junction of Whitechapel Road on 27 June.
The pensioner's 72-year-old wife of 57 years had died days before the robbery.
A man in a grey suit accosted the pensioner and forced the cash from his hands. He was joined by a woman before they left in a cab, police said.
The 6ft tall suspect, believed to be aged in his late 20s and early 30s, approached the victim as he walked away from the main road in Whitechapel near the Royal London Hospital.
He put his arms round the pensioner's neck forcing the 77-year-old victim to relinquish his hold on the money.
The man picked up the blonde woman accomplice, who was about 5ft 7in in height, from behind the hospital, the black cab driver told officers.
Police have released CCTV images of the suspects in the area.
Det Con Alex Saxby said: "This is a particularly despicable crime made even worse by the fact that the victim was already mourning the very recent death of his wife.
"Thankfully, due to financial assistance of family and friends, the victim was able to find a way to cover the cost of the funeral.
"It is hard to imagine the impact this robbery must have had at such a difficult time."