Brompton Hospital child heart unit 'should be saved'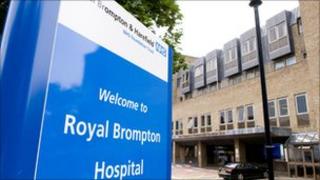 MPs should investigate plans to close a children's heart surgery department in west London, a charity has said.
A consultation has left the unit at the Royal Brompton Hospital, in Chelsea, facing closure.
Last week, the Royal Brompton and Harefield NHS Foundation Trust was given permission to challenge the plan in the High Court.
The Brompton Fountain charity has now called on the Health select committee to investigate the closure proposals.
The hospital's services were scrutinised by the Joint Committee of the Primary Care Trusts of England as part of a national review aimed at streamlining paediatric congenital cardiac surgery services around the country.
The review concluded with a proposal to end child heart surgery at up to five hospitals, as evidence showed larger units had better results.
'Defies logic'
In London, children's heart surgery would be carried out at Evelina Children's Hospital and Great Ormond Street Children's Hospital if the review body's recommendations go ahead.
But the trust argued the process was "deeply flawed" and High Court judge Mr Justice Burnett granted a judicial review saying there was "an arguable case" that should be heard.
It is believed this is the first legal challenge of its kind to be brought by one NHS body against another.
Dr Geoff Baldwin, of The Brompton Fountain, which supports relatives of former and current patients, said: "It defies logic that a review designed to improve standards of children's health care in the UK, could result in the closure of a recognised world-class centre of excellence and the UK's only specialist heart and lung centre.
No decision
"Such a move is unsustainable on the grounds of clinical and medical evidence.
"This is particularly highlighted by the fact that closing children's heart surgery at Royal Brompton will result in the two remaining London centres having to undertake more than the safe threshold of cases defined in the review."
An Department of Health spokesman said: "An independent review, led by experts within the NHS to ensure that children's heart surgery remains safe and fit for purpose in the future, has concluded.
"The public were invited to take part in this review to help shape the future of services. No decisions have been made."
The judicial review will take place in September.