Boat driver 'did not see' killed Mari-Simon Cronje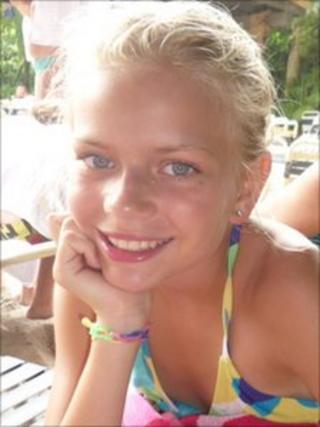 The driver of a boat which killed a girl he had been towing was unaware she had fallen in the water, a marine report has said.
A ski boat ran over Mari-Simon Cronje, 11, at Princes Club Water Sports Park in Bedfont, west London.
Its propeller caused severe injuries in the accident on 11 September 2010.
The use of safety procedures was "flawed at every level" at the water park, the Marine Accident Investigation Branch (MAIB) said.
Mari-Simon, from London, fell from a "banana boat" - an inflatable yellow craft towed behind a speed boat - at a birthday party.
She was pronounced dead soon after arriving at hospital.
"The implementation and execution of the safety management system used at Princes Club was flawed at every level and had not identified or controlled the risks to children taking part in banana boat rides effectively," the report said.
The boat's driver did not see the girl as he continued on a tight circular route, it said.
Watching parents
The boat was operating without an observer and the driver was dividing his attention between looking ahead at where he was going and behind to check on the welfare of those riding the banana boat, MAIB added.
It said the helmet that Mari-Simon had been issued was a grey colour that was difficult to see in the lake water.
The tight circuit taken by the driver reduced the opportunity to see the girl in the water, the MAIB added.
But the licensing requirements for ski boat drivers operating on a commercial basis were unclear, the report found.
The report added the ski boat was driven by a 22-year-old who was working his second summer season at the park.
The MAIB said there was was no requirement for him to hold any qualifications, but his seven years of experience satisfied the conditions of the club's insurers.
Mari-Simon had fallen off the banana boat between 10m and 15m from the shore.
Watching parents shouted and waved to attract the driver's attention but "their efforts were not seen by the driver," the report said.
After the accident one child jumped off the banana and swam to her friend's aid.
Mari-Simon saw her friend but soon lost consciousness, the MAIB said.
An ambulance had arrived at the park at 1649 GMT, within five minutes of the first emergency call.
The ambulance team eventually reached Mari-Simon shortly after 1700 GMT having had to run an estimated 550 metres with their equipment.
At 1739 GMT, Mari-Simon was transferred by road ambulance to West Middlesex Hospital in Isleworth, west London.
Despite extensive attempts to revive her, Mari-Simon did not regain consciousness and she was declared dead at 1822 GMT.