Volunteers offer support London's young black boys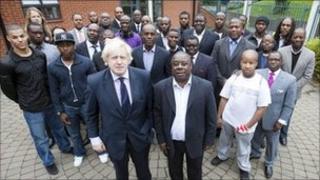 More than 1,700 volunteers have joined a mentoring scheme to support young black boys in London.
Mayor Boris Johnson set up the £1.3m programme which will run in seven London boroughs where young black boys are said to be most at risk of crime.
The volunteers will support youths with homework and sports activities.
Mr Johnson said: "Through no fault of their own there are some young boys in our city in desperate need of a strong male role model."
He added: "I want my scheme to reach out to those who may fall prey to the lure of gangs and violence and place them with positive, hard working males who can help guide them."
'Real solution'
The programme was developed by the Mayor's mentoring ambassador Ray Lewis, who runs the East Side Academy which helps boys at risk of exclusion
Mr Lewis said: "It is easy to criticise our young people who behave badly but unfortunately some have never been taught right from wrong and mentoring is a real solution."
Aaron Harriott, 17, said he was successfully mentored and would now like to mentor and help other young people.
"I first became mentored at 11 and to be honest, in the beginning, I didn't like being told what to do and was quite rebellious.
"But after a while I realised that my mentor was trying to help me," he said.
"I think it's really important for people my age to have someone show them what they can do with their lives."
City Hall has provided £1.3m funding to the project, which is being led by the University of East London.
The scheme aims to help boys between 10 and 16-years-old in Brent, Croydon, Hackney, Haringey, Lambeth, Waltham Forest and Southwark