London 2012: Sand arrives at beach volleyball venue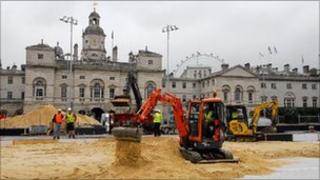 The first trucks of sand have been delivered to London 2012 beach volleyball venue Horse Guards Parade.
The courts next to St James's Park will receive 2,274 tonnes of sand from 120 trucks during Thursday.
The deliveries came ahead of a beach volleyball test event, starting on 9 August, which is part of the London Prepares series.
The first lorry of sand, which is high-quality Redhill 28 sand, was delivered from a quarry in Godstone, Surrey.
The sand will fill one competition court, two warm-up courts and two training courts.
A 15,000-seater temporary stadium on Horse Guards Parade will host Olympic beach volleyball.
The Federation Internationale de Volleyball (FIVB) event will operate as a test to rehearse arrangements for the Olympic Beach Volleyball competition.
London 2012 director of sport Debbie Jevans said: "Beach volleyball is no doubt one of the most anticipated and exciting events in the test event and Olympic calendar.
"Horse Guards Parade is an iconic central London venue while the sport itself is dynamic and great to watch."
In 2012, a total of 96 athletes will be competing in the men's and women's volleyball events.
The competition will consist of 24 teams, divided into six pools of four teams.
Beach volleyball made its Olympic debut at the 1996 Atlanta Games.