Baby P doctor Jerome Ikwueke to can return to work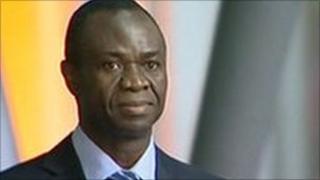 A GP who did not detect that the toddler Peter Connolly was being abused can restart work but with conditions, the General Medical Council has said.
Dr Jerome Ikwueke, 64, was suspended for a year in July 2010 for lapses in the case of the 17-month-old, who died in 2007 in Tottenham, north London.
A disciplinary panel ruled the GP had breached his professional duty.
The GMC said he must follow strict rules for a year as his fitness to practise remained "impaired".
Dr Ikwueke had seen Peter - widely referred to as Baby P - at his surgery at least 14 times in the last months of the boy's life.
Supervision required
In the final appointment on 26 July 2007, eight days before Peter died, he failed to conduct a full examination and did not tell health visitors or social workers that the toddler seemed "withdrawn" and unhappy.
By this stage, Peter had been suffering from sustained abuse.
His mother Tracey Connelly, her boyfriend Stephen Barker and his brother Jason Owen would later be jailed for causing or allowing his death.
It is two-and-a-half years since Dr Ikwueke worked as a GP as he was temporarily suspended for 18 months before last year's hearing.
But the GMC said that "only in exceptional circumstances" could a doctor who had been barred from working for so long return "unrestricted" to the medical register.
Its conditions include an order for Dr Ikwueke to be supervised at all times.
He cannot work at a private practice and must not carry out work as a locum or out of hours without the permission of the GMC and his supervisor.
He must also log any encounters with patients which involve "significant child-protection risk factors".