London's Hydrogen buses to resume service after fire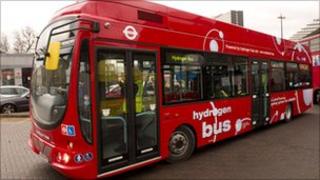 London's hydrogen buses are to resume service after being taken off the road when one caught fire more than five weeks ago.
The five buses were introduced in January to help cut CO2 emissions from transport and tackle climate change.
But the buses were taken off the road as a precautionary measure after a small electrical fire in early June.
Transport for London (TfL) has confirmed that the buses will be phased back in from the start of next week.
'Full investigation'
A TfL spokesperson, said: "On the 12th June one of Transport for London's five hydrogen buses experienced a small electrical fire not related to the innovative hydrogen system.
"All the buses were withdrawn from service as a precautionary measure pending a full investigation. This investigation has identified some minor modifications to the buses which we are currently making."
The five hydrogen buses are the first of a planned fleet of eight and emit nothing but water vapour.
They were specifically designed for TfL using pioneering technology developed by ISE, Wrightbus and Ballard
The buses have been introduced on the RV1 route, which runs past many major landmarks, including Covent Garden, Tower Bridge and the South Bank.