London's mayor urged to tackle flooding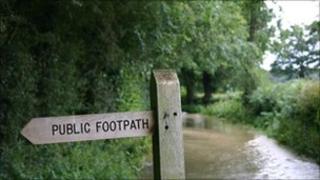 London's mayor is being urged to tackle the risk of flooding in the capital.
A report by London Assembly's environment committee said 680,000 properties are at risk if the city is hit by a severe downpour.
The report says the mayor must make information about flooding publicly available.
It also states London is particularly susceptible because it is so built up and water quickly gets into drains and rivers.
Once these are full, water could flood into roads and gardens, putting hundreds of thousands of properties at risk.
'Pure luck'
The report warned that London's streets could flood in minutes if it gets rainfall similar to the level that caused flooding elsewhere in the UK in 2007.
The report said that it is just chance that London has so far escaped rainfall severe enough to cause widespread flooding, and warns that climate change increases the likelihood of severe rainstorms.
The report estimated that if this happens lives could be lost and damage to property could amount to tens of billions of pounds.
Darren Johnson, deputy chair of the environment committee, said: "It is pure luck that London has so far escaped the kind of flooding that devastated other parts of the country in 2007, and we know that climate change makes severe rainstorms more likely in the future.
"To protect lives and help prevent extensive property damage, Londoners need to be better informed about flood risk and the mayor must lead on ensuring everything possible is done to protect people's homes and businesses."