Merger of RMT and TSSA could lead to 'Tube super union'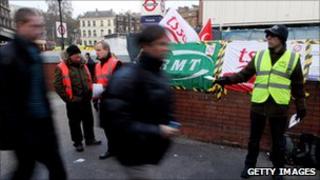 Extremely interesting news today that the Transport Salaried Staffs' Association (TSSA) and the National Union of Rail, Maritime and Transport Workers (RMT) unions are formally talking about a merger.
TSSA General Secretary, Gerry Doherty said:
"Today's decision will hopefully be the start of a process designed to serve the interests of future generations of transport and travel trade workers.
"We owe an obligation to our children and our children's children to leave better organisations that protect workers in the very uncertain future that they currently face."
General Secretary, Bob Crow of the RMT said:
"This is a historical day for the trade union movement. These talks will bring together two unions each with over a hundred years of specialising in the transport industry in the interests of workers."
Extremely positive words from both so it would seem the goodwill is there.
The RMT is much larger with 80,000 members, while TSSA has 30,000. Both are represented in lots of different areas of transport.
Most noticeably, what it would do in London is create a Tube 'super union' representing most station staff and about 50% of drivers. (ASLEF represent most of the other drivers).
The two unions worked together during last year's strikes over ticket office closures and this probably paved the way for this merger.
Although they lost that particular battle when the ticket office rota changes went through anyway, a bigger union could perhaps have much greater bargaining power.
When both sides last walked out then on strike, London Underground could only run up to 40% of services at best.
But both have different political backgrounds and positions.
The TSSA have told me before they are not a radical union and until last year had not been on strike for many years. Compared to that the RMT are far more radical and are more willing to strike than their TSSA comrades.
It will be very interesting to see where the new union - if it happens - ends up politically.
Some have already said the move is disappointing as they fear TSSA will lose its voice.