Metropolitan Police spent £7.5m on student protests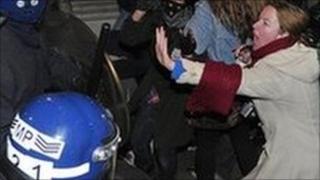 Policing the student fees protests in London cost Scotland Yard £7.5m, figures released by the force show.
Another £2.1m was spent on security at a TUC anti-cuts protest in March, the figures published in a Metropolitan Police Authority (MPA) report reveal.
The figures also show the Met spent nearly £500,000 to protect Tony Blair at appearances before the Iraq Inquiry.
The Met said there was always a cost implication involved in using enough officers for public order situations.
'Cost implication'
In its report to the MPA, the Met said: "The Metropolitan Police Service will provide enough police officers to respond to any public order challenges - but that will have both a cost implication and an impact on local, visible policing in neighbourhoods.
"The cumulative impact of the abstraction of officers from borough duties can, over time, significantly reduce local police resilience."
The report reveals a total of £34.8m was spent policing 42 major public order events between April 2010 and March 2011.
It shows the cost of policing public order events involving 300 or more police officer shifts during that time.
The biggest bill for policing the series of student demonstrations against university tuition fee hikes and education funding cuts was for a protest on 9 December last year.
'Intent on disorder'
The Met said policing the event cost it £1.3m, including £545,000 in overtime and extra staff allowances.
Another three student protests in London last year- on 30 November, 13 December and 14 December - also ran up a bill of more than £1m each.
The TUC's march and rally against government spending cuts on 26 March resulted in an overtime bill of £440,000.
The Met said in the report: "The event was attended by several other organisations and certain elements that were intent on causing disorder.
"The response required a lengthy policing operation resulting in associated overtime payments."
The Met also spent £6.3m policing the annual Notting Hill Carnival last August.
Meanwhile, hundreds of officers were stationed inside and outside the Queen Elizabeth II Conference Centre in Westminster when Mr Blair gave evidence about his controversial decision to go to war in Iraq.
The figures reveal the Met spent £273,000 policing his first appearance before the Chilcot Inquiry into the 2003-2009 Iraq War in January 2010, while another £214,000 was spent when he returned a year later.