Fortnum and Mason protesters deny trespassing in store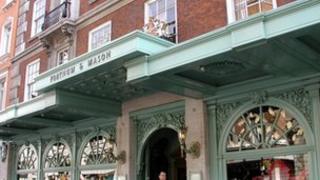 Four protesters have denied trespassing at a London department store during a demonstration.
They are alleged to have committed aggravated trespass at Fortnum and Mason during the TUC rally on 26 March.
Beth Evans, Robert Safar, Alexander Wood and Robert Deacon all pleaded not guilty to the charge at Westminster Magistrates' Court.
A further 15 demonstrators are expected to enter pleas on 19 August, when a trial date is due to be set.
Ms Evans, 24, from Swansea, Mr Safar, 27, from Lewisham, south London, Mr Wood, 26, from Hackney, east London, and Mr Deacon, 23, from Northampton were told that they do not have to attend the August hearing, because they have all made holiday arrangements.
A sit-in organised by campaign group UK Uncut was held at the luxury food store on Piccadilly, central London, in March in protest over alleged tax avoidance by the business's part-owners.
UK Uncut said about 200 of its supporters went into the shop on 26 March.
Police arrested 145 people and 139 of those were charged.
Charges of aggravated trespass against 109 other protesters were dropped after the Crown Prosecution Service (CPS) decided that it would not be in the public interest to pursue the cases through the court.
But it is continuing to pursue cases against 30 others who were charged.