London 2012: Cameron says police 'must not skip a beat'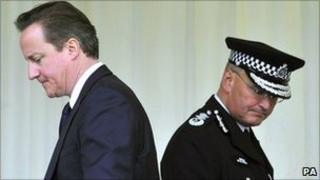 Scotland Yard must not "skip a beat" in planning security for London's Olympics, the prime minister has said.
The Metropolitan Police (Met) was "perfectly capable" of investigating allegations of phone-hacking at the News of the World as well as "keeping our country safe", David Cameron said.
And he welcomed the promotion of Tim Godwin to acting commissioner.
Mr Godwin replaced Sir Paul Stephenson, who quit after criticism of the Met's handling of the phone-hacking scandal.
"I think it's vital that the Met doesn't skip a beat, doesn't miss a moment, in making sure we keep our city and our country safe," Mr Cameron told BBC London.
"That's why I'm delighted that the deputy commissioner is going to be the acting commissioner - he's fully in charge.
"Also Cressida Dick is hugely experienced and competent in terms of terrorism," he said, referring to the assistant commissioner who is the Met's lead on counter-terrorism.
Transport 'disruption'
Mr Cameron described the Met as "an enormous organisation".
It was "perfectly capable of both having a proper inquiry into hacking" and assisting with the Independent Police Complaints Commission's investigation into police corruption as well as policing the Games, he said.
The Olympics will bring an influx of visitors to London and Transport for London has admitted it needs 30% fewer commuters to use public transport each day if it is to cope with the additional passengers.
Mr Cameron admitted there was "going to be disruption", adding: "I don't want to hide that from anybody."
The prime minister also failed to rule out making the day of the Opening Ceremony - 27 July 2012 - a bank holiday in London.
But there had already been an extra bank holiday this year for the royal wedding, he said.
"I don't rule out those things [but] I'm not going to make promises here on-air," he added.