Wilton's Music Hall restoration project to go ahead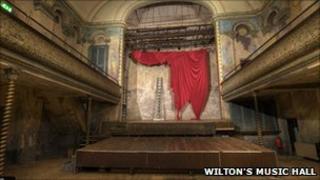 An entertainment venue in east London which failed in its applications for Heritage Lottery funding has raised enough money to continue operating.
Wilton's Music Hall, which is close to Tower Bridge in the East End, had been seeking £4m for restoration work.
About £500,000 has been donated in two months, which will pay for initial assessments of the dilapidated site.
The building was part of the first generation of public house music halls which opened in London in the 1850s.
By the start of the 20th Century these had all closed and this particular site remained neglected until 10 years ago.
Wall 'collapsed'
In 2007 it was listed by the World Monuments Fund as one of 100 locations of cultural importance which were under threat.
Since then, however, two bids for lottery funding for the Grade II listed building have come to nothing and it was feared the venue would have to close if it could not undergo badly-needed repairs.
Frances Mayhew, its artistic director, said it was "amazing" that so much money had now been raised through donations.
"The building was getting in a worse and worse state, and about three weeks ago, when it was raining very heavily, one of my walls disappeared.
"It just collapsed because it had been getting wetter and wetter.
"Now I'm finishing the surveys as to where and how the damage has been recurring over many years and we'll start the repair work in mid-September."
It was hoped trusts and foundations would provide further donations, she said, and the £4m total may be revised down to between £2m and £2.5m as work progresses.