Shell Centre on South Bank to have £300m redevelopment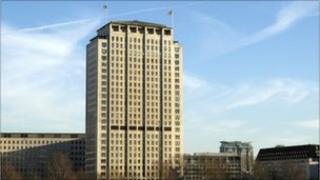 A landmark building in on the South Bank of the Thames is to undergo a £300m redevelopment.
The Shell Centre, which occupies land between Waterloo Station and Hungerford Bridge, will be redeveloped by Canary Wharf Group and Qatari Diar.
It follows an agreement with Shell International Limited, which will relocate 1,700 staff to Canary Wharf and The Strand during the works.
Shell has had a presence on the South Bank for more than 50 years.
Shell will retain the freehold of the site with Canary Wharf Group and Qatari Diar holding a 999 year lease for the site, excluding the Tower. This is subject to planning permission.
On completion of the Shell Centre development, all London based staff will return to the South Bank.
Considerable reinvestment
The oil company will continue to occupy the Tower and lease part of a new building for its London headquarters.
Graham van't Hoff, Chairman, Shell UK said: "This is a great step forward and represents considerable reinvestment in the South Bank.
"Shell Centre is our long-term home in London and we're keen to start working with Canary Wharf Group, Qatari Diar and local stakeholders to develop and deliver a project that will benefit both London and the local community."
The developers will carry out public consultation and engagement throughout the application process.