Search for London 2012 Olympic public space designs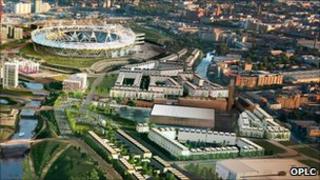 A competition to design a public space in the London 2012 Olympic Park has begun.
Designers have five weeks to register their interest in creating the space and designing a visitor centre and a playground for use after the Games.
The Olympic Park Legacy Company (OPLC) wants a place for people to gather in the South Park between the Aquatics Centre, the Stadium and 2012 Gardens.
The visitor centre and playground have been earmarked for the North Park.
The North Park will be a green valley with opportunities for walking and cycling.
The 55-acre South Park is located next to Westfield Stratford City and Stratford station, one of London's largest transport hubs.
OPLC chief executive Andrew Altman said: "With millions of people expected to visit the park each year, this is a unique opportunity for design teams to create exceptional places that match the stunning mix of iconic venues and parkland that surround them."
Bids received by 31 August will be reviewed and a shortlist of entrants asked to produce a concept design in the autumn.
Shortlisted designs will go on display to the public before an expert panel will decide the winners at the end of the year.