Will Carus identified as boy in Thames canoe death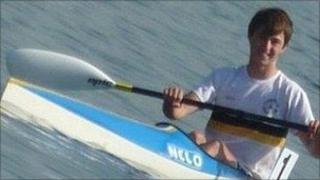 Police have released the identity of a 17-year-old boy who died while he was canoeing on the River Thames in south-west London on Sunday afternoon.
Will Carus, of Tonbridge, Kent, capsized in the Twickenham area in "an appalling accident with tragic consequences", his family said.
It is understood he was taking part in the Richmond Marathon Canoe Race.
Post-mortem tests are to be carried out at Kingston Mortuary later. His death is not being treated as suspicious.
The teenager was last seen at about 12:20 BST, holding on to his overturned canoe and swimming with it to the riverbank, police said.
'Avoid speculation'
"Our one consolation is that he died doing something for which he had an absolute passion on a beautiful sunny day on the river," Will's family said in a statement.
"We have also been much heartened by the many wonderful tributes we have received from so many of the people he has touched in his brief but very full life."
His family asked for their privacy to be respected while they grieved.
They said they hoped people would avoid "the temptation to speculate about the circumstances of the accident, which will be the subject of an inquest in due course".
Officers are still investigating how Will capsized and what happened after he reappeared in the water.
Canoe England said it was "deeply saddened" by the tragedy.
It also stressed that the "overall safety record" of the sport was good and that about 1.2m people took part in it each year.