Keith Cima 'petulant as Tower of London governor'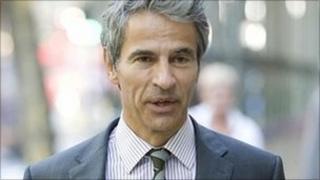 A former Tower of London governor was dismissed after acting like a "petulant child" at work, a tribunal has heard.
Maj Gen Keith Cima made remarks about colleagues which were "not appropriate", the chief executive of the attraction's parent company said.
Michael Day claimed Gen Cima was unhappy that a Beefeater he had fired was offered an apology and a payout.
The Beefeater, Mark Sanders-Cook, was sacked for allegedly bullying the first female Yeoman Warder, Moira Cameron.
But he reached a settlement with his employer, Historic Royal Palaces, which included the payment.
Gen Cima allegedly said the company had "prostituted itself" by agreeing to this.
He also "felt as though his position was undermined", Mr Day told the Central Employment Tribunal in London.
Gen Cima is challenging his dismissal and seeking reinstatement.
'Prickly and challenging'
Mr Day said Gen Cima "behaved like a petulant child, did not make eye contact and shrugged his shoulders" when he was told about the settlement.
"I knew he was upset but it was not an appropriate response for a person occupying this level of post," Mr Day added.
It had already become apparent "that he was often prickly, unnecessarily challenging and confrontational", said Mr Day.
"Colleagues did not find him easy to work with in a collegiate way and he did not work in the way that HRP worked."
Gen Cima took over the role at the Tower of London in 2006 after 32 years in the Army.
He is expected to claim that he was sacked after exposing malpractice at the Tower and for confronting a culture of bullying.
The hearing continues.