Dr Freddy Patel: G20 pathologist suspension extended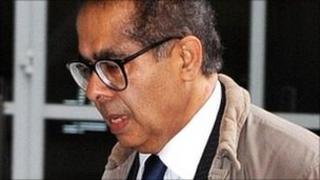 The pathologist criticised over post-mortem tests on a man who died at the London G20 protests has had his suspension over another case extended.
In March, Dr Freddy Patel was suspended for four months after being found guilty of serious misconduct.
The allegations related to his post-mortem examination of murder victim Sally White, who was murdered by Anthony Hardy in north London in 2002.
The General Medical Council (GMC) ruled he cannot practise until 31 December.
A GMC fitness to practise review panel said this would allow sufficient time for both it and Dr Patel to prepare for another hearing, when a new allegation which had emerged against him would be discussed.
The chairman of the review panel, Professor Brian Gomes da Costa, said: "It would be disproportionate to extend the suspension beyond that date."
Findings contradicted
Earlier this year the panel ruled Dr Patel's fitness to practise was impaired having been found guilty of gross professional misconduct.
He was found to have omitted findings which he considered not "relevant" when examining the body of 31-year-old Ms White.
The panel also said he had been deliberately dishonest in claims made on his CV and had not given truthful evidence to an earlier panel hearing.
It concluded his behaviour was against the "fundamental tenets" of good medical practice.
Dr Patel was criticised for his part in the investigation into the death of newspaper seller Ian Tomlinson who collapsed during the G20 protests in 2009.
The pathologist found Mr Tomlinson died of a heart attack due to coronary artery disease but at the inquest six experts said he was wrong and blamed internal bleeding.