Killer Learco Chindamo 'used notoriety during robbery'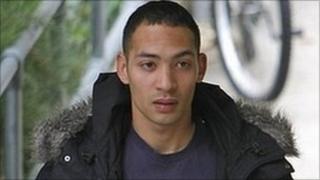 The killer of headmaster Philip Lawrence used his notoriety to intimidate a man he robbed at a cash machine in north London, a court heard.
Learco Chindamo, 30, and two friends targeted David Sexton in Camden, in November, jurors were told.
Chindamo asked him "do you know who I am?" before demanding "compensation" when he said he did not, Blackfriars Crown Court heard.
Chindamo, Gregory Jananto and Saeed Akhtar, both 32, all deny robbery.
The jury heard Chindamo was convicted of murdering Mr Lawrence outside the gates of St George's School in Maida Vale, west London, in December 1995.
'Designed to intimidate'
Months after being released from prison last year he allegedly robbed Mr Sexton of £20 as he withdrew money from a cashpoint outside a Sainsbury's store in Chalk Farm Road at 03:30 GMT.
Prosecutor Alison Morgan told the court Chindamo used his conviction for murdering Mr Lawrence to frighten Mr Sexton, who was 19 when the alleged robbery took place.
She said: "Mr Chindamo came towards Mr Sexton saying words to the effect of, 'Do you know who I am?' and 'Do you remember about the headteacher in Maida Vale?'
"The Crown say that this was quite plainly and deliberately a reference to his conviction designed to intimidate and threaten Mr Sexton."
After being approached by the killer, Mr Sexton remembered who he was but could not recall his name, the jury was told.
Chindamo, of Catford, south London, demanded money from his victim as "compensation" for "disrespecting him", the prosecutor said.
The men with him, Mr Jananto, 32, of Shepherd's Bush, west London, and Mr Akhtar, 32, of Camden, surrounded Mr Sexton in an "intimidating and threatening manner", the court heard.
Seamus Delahunty, one of two friends with Mr Sexton at the time of the alleged robbery, recognised Chindamo as the killer of Mr Lawrence from media coverage.
'Not drunk'
He said Chindamo repeatedly said, "Do you know who I am?" to Mr Sexton, getting louder and more aggressive each time, the court heard.
After his arrest Chindamo told police a man at the cashpoint had shouted "killer" at him.
He said he lectured the man "on why I was not proud of what I had done".
Chindamo denied threatening the man, using unlawful violence against him or demanding money from him.
Giving evidence from behind a screen, Mr Sexton, 20, said he had drunk at least nine pints with work colleagues during the evening but was not drunk.
"I was fine. I wasn't stumbling around the place. I was normal," he said.
He told how he felt scared when Chindamo referred to killing Mr Lawrence.
"He demanded compensation for disrespecting him," Mr Sexton told the court.
"He was basically saying, 'hand over the money'. I didn't think I had done anything wrong."
The trial continues.