Nicholas Pearton park stabbing: Gang detained for death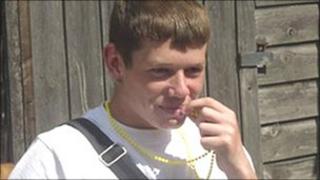 Seven teenagers have been detained for killing a 16-year-old schoolboy who was stabbed to death in a south-east London park.
Nicholas Pearton, of Sydenham, was chased, beaten and stabbed in Home Park Recreation Ground in Sydenham last May.
Dale Green, 17, Lamarr Gordon, 17, and Joseph Appiah, 16, were given life terms for murder.
Four other males, one 18-year-old, two 17 and one 16, were convicted of manslaughter.
Scuffles in dock
During the trial, the court heard Nicholas had become caught up in a fight between two gangs following a row at school earlier in the day.
Following the attack, he ran into a chicken takeaway shop where he collapsed and died.
A minimum term of 15 years was given to Green, the person identified as doing the stabbing, with 14 years for Gordon and 12 years for Appiah.
Terell Clement, aged 18, was jailed for 10 years, Claude Gaha, aged 17, and 16-year-old Demar Brown were given eight years and Edward Conteh, aged 17, was given seven years.
Gordon's older brother, Sheldon Gordon, 23, of Bromley, was given a 12-month suspended sentence for perverting the course of justice. He hid clothes in a bid to hamper the investigation.
Scuffles broke out in the dock of the Old Bailey as the sentences were passed.
'Major issue'
Only Green was identified as stabbing Nicholas and the others claimed they had been wrongly convicted of murder and manslaughter.
But Judge Anthony Morris said they had all taken part in "a terrifying example of gang violence".
The judge also said not enough was being done to raise awareness of the consequences of gang violence.
He asked for a report to show what the CPS was going to do to reach youngsters in schools.
When told the police already had a programme, Judge Morris said: "It seems to me the message is not getting through to them.
"It seems to me that we are not addressing a major issue."
A statement by the father of Nicholas Pearton on behalf of the family said his son had been at "a special point in his life" and was excelling on a carpentry course at college.