Ex-Tower of London boss Keith Cima: 'Drug used to frame me'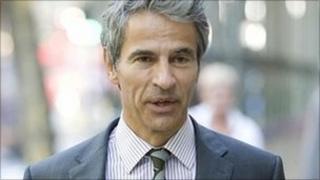 A cannabis plant was used to discredit a former Tower of London boss during an inquiry into bullying, an employment tribunal has heard.
Maj Gen Keith Cima, 60, claims he was unfairly forced out of his job at the central London tourist attraction.
In a statement to the tribunal, Gen Cima said police told him cannabis had been planted on his veranda.
At the time an inquiry into bullying claims by Moira Cameron, the first female Beefeater, was under way.
Gen Cima, who took over the role at the Tower of London in 2006, claims he was sacked after exposing malpractice at the Tower and for confronting a culture of bullying.
He said he was under "severe stress" and warned to take greater precautions with his security at the time.
Derogatory comments
A statement by Gen Cima, handed to a central London employment tribunal, read: "A cannabis plant had, according to the Metropolitan Police, been planted on the veranda of Queen's House (where he lived) in order to discredit me during the bullying inquiry and follow-up action."
In December 2010, Gen Cima was dismissed for gross misconduct after being accused of making derogatory comments about the Yeoman body.
Gen Cima was openly critical of a payout and apology given to Yeoman warder Mark Sanders-Crook, who was sacked after allegedly bullying Ms Cameron.
Gen Cima, who now lives in France, wants to be reinstated saying: "To me it was the best job in the world and I would go back in an instant."
During the tribunal, Gen Cima was accused of calling Beefeaters the "lowest of the low" and branding them "thick".
He later said he used this phrase when referring to two Beefeaters accused of bullying Ms Cameron.
He was also accused of having told an interview candidate he had taken the top job because it paid more than the Army.
He denied this, stating the salary, without pension payments and accommodation allowances, was less.
When showing Ms Cameron a press release concerning Mr Sanders-Crooks payout he allegedly said Historic Royal Palaces had "prostituted itself", the tribunal was told.
Gen Cima said he could not remember using those words, but accepted he did.
He said when he made the controversial comments: "I was under huge stress from the point of view of work and my eyesight and there were things I just could not remember, still do not remember."
The former soldier told the hearing that from December 2009 his eyesight began to deteriorate and fear of losing his sight left him distracted and affected his judgement.
He was diagnosed with cataracts and now has "bionic" eyes, he said.
The hearing continues.