Singer's body found in suitcase at Heathrow, court told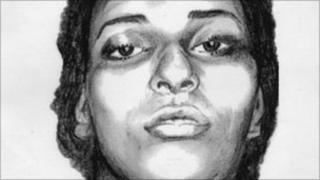 An aspiring cabaret singer and dancer was murdered and dumped in a suitcase at Heathrow Airport, the Old Bailey has been told.
Fatima Kama, 28, was stabbed repeatedly and her throat was slashed before being taken to an airport car park on the Heathrow Express from Paddington station.
The Canadian's body was found after the suitcase was spotted on a trolley.
Former air steward Youseff Wahid, 42, denies murdering Ms Kama in July 1999.
'Shaved off moustache'
Mr Wahid was extradited to Britain from Bahrain last year, 11 years after the killing.
Adrian Darbishire, prosecuting, said Mr Wahid was recorded on CCTV carrying a "very heavy" suitcase on the Saturday night.
The next day, he had shaved off his moustache and left the UK for Beirut in his native Lebanon, where extradition was not possible, the court was told.
DNA from the body linked him to Ms Kama who was staying at the flat owned by Wahid's brother.
Her blood was found on carpets and skirting boards.
Miss Kama had been due to fly home on the Sunday and her family alerted police when she failed to turn up at Montreal Airport.
'Holly Golightly'
Mr Darbishire likened Ms Kama and her social circle to a character made famous by Audrey Hepburn in the 1961 film Breakfast at Tiffany's.
"There was something of the Holly Golightly about her and her friends," he said.
"She was a vivacious and attractive young woman who had a number of rich admirers."
But Mr Darbishire added: "The defendant was neither rich or attractive to Fatima Kama."
The case continues.