London Underground makes improved 5% staff pay offer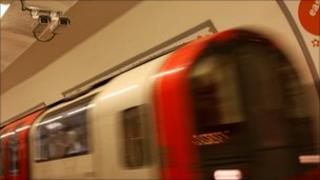 London Underground (LU) has made an improved five-year pay offer to its staff.
It is offering a 5% pay rise this year, which is 0.25% more than its previous offer.
Tube and other workers would then receive retail price index (RPI) inflation plus 0.25% in the following three years, and RPI plus 0.5% in the final year.
The Rail, Maritime and Transport union is considering the offer.
Howard Collins, LU's chief operating officer, said: "We have made a very fair and affordable multi-year pay offer to the trade unions that, over the life of the deal, will enable our employees' salaries to keep pace with the cost of living and guarantees an increase in real terms.
"At the same time it is realistic given the current economic situation and the pressure on TfL's finances."
A spokesman for the Rail, Maritime and Transport (RMT) union said the offer was being considered.
Further increases
But the union has rejected previous five-year offers as they believe they are too long, saying it left staff "vulnerable to real-term pay cuts in years when RPI under-estimates the real rise in living costs".
Also, the RMT says it would leave it unable to claim for further increases until 2016.
The union wants a flat-rate pay rise for some workers and a cut in working hours.
Meanwhile, thousands of commuters had severely-disrupted journeys to work on Friday after major problems on two Tube lines.
Over-running engineering work at Neasden in north-west London led to severe delays on the Metropolitan and Jubilee lines.
Olympic preparations
The news of the pay offer comes as it emerged that TfL has written to its employees saying non-operational staff and managers will take customer service roles for next summer's Olympic Games.
An email leaked to BBC London's transport correspondent Tom Edwards said that non-operational, or support staff will not take on safety critical roles.
TfL added that it will be "stocking up on the supplies" it needs ahead of the Games and it is allowing some staff to stagger start times in order to lead by example on easing transport congestion.
The transport operator also plans to "bring forward, adjust or defer some activities" so that staff do not return to a huge backlog.