Brixton hit by 'mindless violence'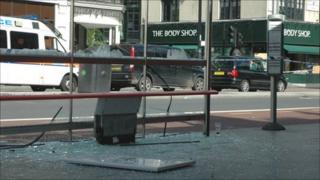 "I absolutely feel sick at this mindless violence," said Brixton resident Yvonne Clarke, with tears in her eyes.
Ms Clarke, who has lived in the area for 15 years, stood at the corner of Brixton High Street, in south London, after buying a coffee on her way to work, surveying the damage with cafe owner, Enza.
Looking down the street, they saw broken windows at Marks and Spencer, Foot Locker, the Body Shop and other shops now behind police tape after a second night of violence in north London.
"I like Brixton - I always wanted to live here," said Ms Clarke, 48.
"It's frightening because I was in my flat last night and I could hear the helicopters. [The helicopters] littered the skies and I smelt the smoke from Foot Locker in my bedroom."
Brixton's High Street was targeted by about 200 people in the second night of violence which erupted following a peaceful march on Saturday over the death of Mark Duggan in Tottenham last week.
Tottenham and Wood Green had been the target of rioters and looters on Saturday night.
Many people working in the shops on Brixton's High Street woke up on Monday to find their workplaces damaged and police tape across the main road along with various streets and alleys.
Enza's shop became one of the impromptu gathering points along the police cordon for people waiting to reach their workplaces.
She said: "I hope it's finished."
A group of elderly women with their shopping trolleys stood among other confused residents and commuters opposite a bus stop, which was now reduced to a pile of broken glass and fallen billboards.
The group huddled together, shaking their heads and whispering.
Eerily quiet
Other people stopped to ask directions to Stockwell Tube station after hearing news that Brixton's station had been closed. Although buses and other vehicles were able to pass through the streets without stopping, pedestrians were stopped from walking on the pavements.
The normally bustling roads were eerily quiet and empty, but the occasional noise of sirens pierced the air.
On Atlantic Street, one jewellery shop stood with its broken glass front next to shops, takeaways and cafes that had been untouched.
The owner, who did not want to talk, had just discovered the damage.
One of his friends said in passing: "We just want to get over the day".
Residents said the choice of targets - clothes, sports goods, jewellery shops - suggested that the intention of the people who hit the streets after violence spilled over from Tottenham and Enfield was not motivated by any political cause.
Resident David Waddock said: "For over two hours last night we watched from our house as hundreds of people looted Currys in Brixton.
"We called 999 twice but in over three hours we did not see a single police car or van or even hear police sirens."
Down the road, Ibrahim Khan, 45, said he was relieved his mobile phone shop had not been targeted but was taking measures to protect his goods.
Several residents said they felt the south London area had "come a long way" since the Brixton riots in 1981 but the violence on Sunday night could mean a step backwards for the area.
Thirty years ago the area was rocked by three days of violence following rumours of police brutality against a black man.
A local man in his 20s, who did not want to be named, said: "In Brixton there's a love-hate relationship going on between the police and residents.
"If respect is given, then respect is due."
Remembering the 1981 riots, Ian Ridley, who works at a fishmonger's which was behind the police tape, said: "We have been through one riot and now we have been through another".
The area was rocked by riots again in 1995 after the death of 25-year-old Wayne Douglas in police custody.
Barnaby Stutter, one of the owners of a co-operative cycle shop, said that although it had been attacked back in 1995, it had been spared on Sunday night.
"[In 1995] our shop was robbed and I came down at about midnight and found the shop full of children. It's not a riot, it's shopping.
"The young men and young children who have done what they did in Brixton have no excuse.
"For the older community here, they can't walk on their own streets because of the police tape and glass, I think it's revolting."
But in the midst of the shock there was hope that Sunday's violence would not return.
The owner of a bakery in Coldharbour Lane decided to hand out free cupcakes to people on the street, saying: "Brixton is about love. Who cares if people didn't show love last night?
"We wanted to show there is kindness in Brixton."