London riots: Teenagers 'lack hope'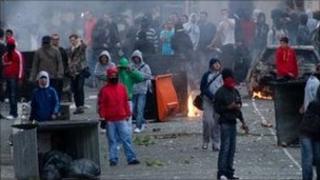 Many of London's teenagers have been rioting because they "lack hope" and "feel let down by society", according to youth group leaders.
"Young people are bored and feel they have nothing to lose," said former gang member Kim Gardner, who now mentors young people in gangs to try to help them turn their lives around.
But young people BBC London spoke to warned other teenagers, who have been taking to London's streets, that rioting is not the solution.
Nevil Fenton, 17, who witnessed looting taking place in his neighbourhood in Hackey, east London, on Monday night, said troublemakers were "putting a strain on their own communities".
"If you're angry at the police, why set fire to shops?" he asked.
"If I'm upset with the system, why mess up my own livelihood?"
Rioting, looting and arson have taken place near to some of the capital's poorest housing estates over recent nights.
'Less opportunity'
Mr Fenton said some young people were rioting because "the system is flawed".
"There is fear, uncertainty, less jobs, less opportunity and university is harder to get into," he said.
The trouble began after a peaceful protest in Tottenham, north London, on Saturday over the fatal shooting by police of Mark Duggan, 29.
"The spark in Tottenham was all that was needed to fuel the fire," Mr Fenton said.
He added that opportunists had been "taking advantage of the situation by looting".
"But it's not just children," he said.
"Young adults were parking up their cars and taking TVs, medicine, anything they could get their hands on."
Ms Gardner warned teenagers off looting.
She asked: "Is that stolen TV really worth it?
"If you end up being detained, what will that do to your future?"
She said many young people she had spoken to were gang members who felt detached from their communities.
'Don't care'
"They are asking, 'what have I got to live for?'
"Underprivileged youths have told me they feel that no one cares any more," she said.
"It boils down to a lack of hope and little regard for their own communities.
"Many youth clubs have had their funding taken away and there haven't been many activities organised for children this summer," she added.
"Thousands of kids in London are bored on their six-week summer holidays, on their BlackBerrys or iPhones, getting the message, 'look, looting's fun. Let's meet up and get free trainers'."
Former Haringey youth leader Areeb Ullah, 19, from Tottenham, north London, said: "If the young people cared about the area they lived in, they wouldn't have acted in that way.
"But they don't care about the society around them.
"People are fed up with the social deprivation and lack of investment in the area," added Mr Ullah.
But he agreed rioting and looting local businesses were not a sensible reaction.
"If young people want to show they care about their communities they should join the clean-up operation," he said.
Sheldon Thomas runs Tag, an outreach mentoring scheme for gang members in east London.
"Politicians need to stop condemning young people and start giving solutions to the problems," he said.
He suggested a fresh approach needed to be taken.
"Local authorities are out of their depth dealing with disillusioned youths in gangs.
"You wouldn't ask a brain surgeon to operate on someone's knee, so why ask a local authority youth worker to deal with gangs?
"Dealing with these gangs is a specialist job that needs to be done by people who have lived the lifestyle and changed it."
Some of the people in this article have had their names changed, at their request.