Skeletal remains found in bushes in Peckham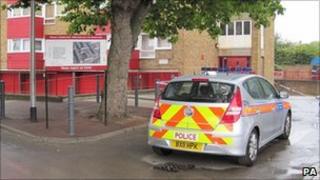 The skeletal remains of a man have been discovered in bushes in south London.
Officers believe the body, which was found by a dog walker in Lovelinch Close, Peckham, on Wednesday, had been put there in the last week.
Police said the man, who was 5ft 4ins tall, white with a long grey beard and at least 70 years old, may have been sleeping rough.
His death, thought to have happened at least six months ago, is being treated as unexplained.
World Cup T-shirt
Police said they were called to the scene at 07:45 BST on Wednesday after the discovery was made by a woman walking her dog.
A parking area at the side of a block of flats was cordoned off while investigations were carried out.
The man had been wearing dark-coloured trousers and a white T-shirt with the slogan "England 2002 World Cup Campaign" on the front and a large St George cross on the back, police said.
There was also a dark-coloured suit jacket with the body, but it was not being worn by the dead man. Earlier police had said the man was wearing a suit.
A Met spokesman said: "We believe that the skeletal remains were placed sometime between 2pm on Friday 5 August and the early hours of 10 August."
'All tied up'
Security guard Jason Mead, 38, who works at a nearby building, said the body was found behind some bushes by dog walkers.
"Two members of the public were walking their dog and the dog just went straight over there, it smelt something," he said.
"The gentleman came up to me and said 'I think I've seen a dead body' so I went round there to check and see if there was.
"It was in a bag, like a windsurfing bag. I looked in one side and saw part of it.... It was all tied up."
Post-mortem tests on the body have so far proved inconclusive.
Police, who said the death was "not linked to the recent disorder", have urged anyone who can help identify the dead man to contact them.