Ealing riot: CCTV of Richard Mannington Bowes attack suspect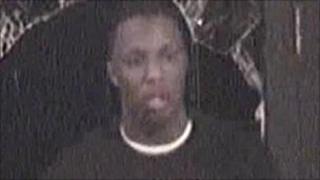 CCTV footage has been released of a man police want to question about an attack on a 68-year-old who tried to stop looting by rioters in west London.
Richard Mannington Bowes, of Haven Green, Ealing, is in a critical condition in hospital after suffering serious head injuries.
The attack happened at about 22:45 BST on Spring Bridge Road, Ealing, on Monday.
Police said they were still trying to trace Mr Bowes's next-of-kin.
Mr Bowes is believed to have remonstrated with teenagers who were setting fire to two industrial bins.
Police officers were then pelted with missiles as they came to his aid.
Det Ch Insp John McFarlane said Mr Bowes had been "violently assaulted and knocked to the ground".
'Under attack'
Mr McFarlane said: "We have now identified Mr Bowes, who is a local man who lives alone, however we urgently need to identify his next-of-kin and family as he is on life support.
"Police officers who were under attack by the mob drove them away and pulled the victim to relative safety and rendered first aid with the assistance of members of the public in an attempt to save his life.
"Through CCTV we have identified a strong suspect. I know that on seeing these images of him people will be able to identify him."
The man was in the Ealing Broadway area from 20:00 BST, police said.
Mr McFarlane said: "He had been in close proximity to the attack, recording the events on a mobile device.
"If you are the suspect in the CCTV, do the decent thing and give yourself up."