PM praises London transport workers for duty during riots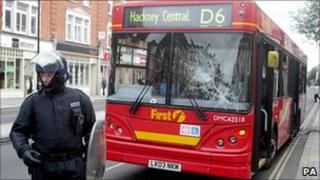 Transport workers have been praised by Prime Minister David Cameron for their bravery in "keeping London moving".
In a letter to Transport for London Mr Cameron paid tribute to people who "protected passengers" during riots.
He made a special mention of the driver whose nearly full bus came under attack in Croydon on Monday and a bus service controller in Tottenham who worked with a broken wrist after being beaten up.
TfL said it wanted to ensure it was "business as usual" for Londoners.
More than 1,000 people have been arrested and about 600 charged following rioting and looting across the capital since Saturday.
In the letter Mr Cameron thanked staff for working "round the clock to keep London moving in the face of the appalling violence and thuggery".
"They all deserve our gratitude and admiration".
Among the incidents highlighted was that of a "nearly full" double-decker bus which came under "sustained attack" on London Road, Croydon, on Monday evening. The driver managed to drive off with the passengers.
On Saturday evening, when the first riots erupted, a bus service controller in Tottenham was assaulted but he continued to work through the night. Later it emerged his wrist had been broken in the attack.
Transport Commissioner Peter Hendy said: "I welcome and echo the prime minister's recognition of the simply outstanding job undertaken by staff right across London's transport networks, as well those in the police and emergency services."