Inquiry after River Thames tug boat capsizes and sinks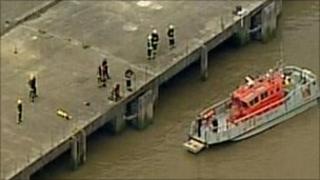 Investigations have begun into why a tug boat overturned and sank on the River Thames in south-east London.
One crew member is still missing after the vessel got into difficulties at Convoys Wharf in Deptford, near Greenwich Pier, on Friday morning.
A search, involving police, the Port of London Authority, the fire brigade and lifeboat crews, was called off about fours hours after the tug sank.
The first stages of an operation to raise the sunken tug has begun.
Two of the three-man crew were safely rescued from the water after the vessel, called Chiefton, capsized at about 10:50 BST.
The section of the river around Greenwich Pier was closed while a major search-and-rescue operation for the missing crewman was ongoing.
At about 15:00 on Friday the Maritime and Coastguard Agency (MCA) said the search had been called off.
The MCA said: "The Port of London Authority (PLA) is beginning the first stages of an operation to raise the sunken tug.
Safety tightened
"Depending on the circumstances, this will be carried out by PLA or by a salvage contractor.
"The Marine Accident Investigation Branch have begun an investigation into the causes of the accident."
A PLA spokesman said a search of the coastline was carried out by police on Saturday morning but the man was still missing.
He also urged boat owners to avoid the area of the Thames where the tug sank.
The Chiefton, which is based at Gravesend in Kent, was towing a crane barge named Skyline at the time of the incident.
Safety measures on the Thames were tightened in the aftermath of the 1989 Marchioness riverboat disaster in which 51 people died when their boat was in a collision with a dredger near Southwark, south London.
The sinking follows the death on the Thames last week of Ben Woollacott, 19, a crewman on the Woolwich Ferry.
He fell from the ferry and under its propeller while mooring ropes were being untied.
Transport for London said the Woolwich Ferry would be suspended on Monday as staff attend Mr Woollacott's funeral.
Thames River Services and Crown River Cruises will also suspend services on Monday.