Trevor Ellis death: Police believe killers were looting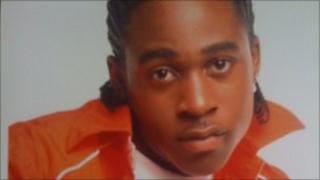 The killers of a man shot dead during the London riots were involved in looting and robbed at least two other people, detectives believe.
Trevor Ellis, 26, of Brixton Hill, south London, was found with bullet wounds in a car in Croydon on Monday.
Police think he and some friends were in an altercation with another group.
Three men have been arrested over the murder of the father-of-four, whose death is one of five that could be linked to disorder across England.
Two men bailed
Det Ch Insp Neil Hutchison, who is leading the investigation, said: "Trevor Ellis was murdered on a night where Croydon, and in fact London, saw unprecedented levels of violence and disorder.
"I believe his killers were actively involved in looting and responsible for robbing at least two people that night."
On Saturday afternoon a 27-year-old man became the third person to be arrested on suspicion of Mr Ellis's murder.
He was being questioned at a police station in south London, officers said.
A 26-year-old man arrested in Mitcham, south London, on Friday and a 24-year-old man arrested in Brighton, East Sussex, on Thursday have both been bailed until mid-September.
Two further men were arrested at the scene of the shooting on suspicion of handling stolen goods and were later bailed pending further inquiries.
Police said initial inquiries suggested Mr Ellis had travelled to the Croydon area with friends earlier on Monday.
Detectives believe an altercation with a group of nine people culminated in a car chase, which started in Scarbrook Road, Croydon, passing along the A232 flyover into Duppas Hill Road, where Mr Ellis was shot.
A post-mortem examination showed he died from a gunshot wound to the head.
Image appeal
Detectives have said they want to hear from anyone who witnessed the pursuit involving a dark estate car and silver hatchback - believed to have been driven by the group of nine - and a dark hatchback, in which Mr Ellis was a passenger.
Appealing for help in finding the killers, Det Ch Insp Hutchinson said: "They thought nothing of arming themselves with a gun and ultimately taking a young man's life, leaving four young children without a father.
"I want anyone who was in central Croydon that night who saw this group or may have images of them on their cameras or phones to contact police."
Mr Ellis is one of five people whose deaths police believe are, or may be, linked to the recent disorder across England, sparked by the death of Mark Duggan on 4 August in Tottenham.
Disorder began in Tottenham last Saturday after a peaceful protest over Mr Duggan's death and spread across London on the following two nights, and across other parts of England in the following days.
The rioting in Croydon on Monday, when Mr Ellis was killed, also saw businesses and homes damaged by fire.
A 33-year-old man was arrested on Saturday on suspicion of causing a fire which destroyed the family-run Reeves Furniture store, which had stood in the south London suburb for 150 years, becoming the fourth person to be arrested in connection with the blaze.