Asyraf Haziq: Malaysian student given Parliament tour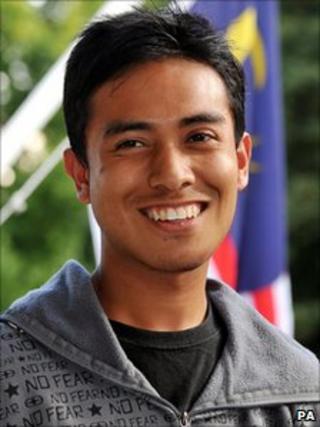 The student mugged by robbers who posed as Good Samaritans after he was attacked by rioters in east London has been taken on a tour of Westminster.
Asyraf Haziq, 20, was invited to Parliament by Home Affairs Select Committee chairman Keith Vaz.
The Malaysian student was on his bicycle on his way to a friend's house when he was targeted by rioters. He received a broken jaw in the attack.
A fund to help the student has raised more than £22,000.
Lasting impression
Mr Haziq was joined on the tour of the Palace of Westminster by his father Rossli, mother Maznah, and seven-year-old brother Fitri who flew in from Ampang, near Kuala Lumpur.
Mr Vaz, whose committee will look at last week's widespread disorder, visited the student after viewing video footage of the attack.
He said: "I said how sorry I was to see what happened. It was an awful, horrifying experience for him and not the kind of experience we should expect overseas students to face.
"I didn't want that to be his lasting impression of London - this was exceptional and not in any way representative of our great city.
"He told me his mum and dad were flying out for a week to make sure he was all right, so I invited Ashraf and his family to the Commons."
'Sun-drenched precints'
Mr Haziq was robbed by hooded youths who initially pretended to help him before going through his rucksack, stealing his mobile phone, portable Sony PlayStation and wallet in Barking, east London, last Monday.
He has vowed to stay in the UK and continue accountancy at Kaplan International College in north London, despite his ordeal.
Speaking at parliament he said: "I'm very honoured, it's great to be here and I like it very much."
On Sunday, Mr Haziq, a keen cyclist, was given VIP treatment at the Badminton World Championships at Wembley Arena.
Reece Donovan, 20, of Chadwell Heath, Romford, Essex, is accused of robbing Mr Haziq.
He will appear at Wood Green Crown Court on Friday for a plea and case management hearing.