Sixteen people rescued from Croydon flats fire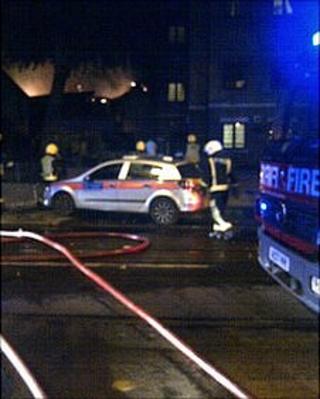 Sixteen people were rescued after a fire broke out in sheltered accommodation flats in south London.
Up to 40 firefighters tackled the blaze at Guinness Court which was reported just after 01:00 BST.
The cause of the fire, which severely damaged the two-storey premises in Leafy Way, Croydon, is not known.
London Ambulance Service took seven people to hospital who suffered from minor smoke inhalation and shock. Four were treated at the scene for shock.
Three people had to climb down a ladder to escape. It was four hours before the fire was under control.
The building did not have sprinklers, London Fire Brigade said.
Although it is not always required by regulation, sprinklers keep "people and properties safer", it added.
'Smoke shooting out'
Watch manager at Woodside fire station, Danny Kelly, who was one of the first people at the scene, said: "We were out dealing with a bin fire and a car fire in the local area when we noticed smoke pouring over the rooftops.
"As we got closer we saw flames and smoke shooting out of the care home and realised there were people inside.
"This was a challenging job due to the intensity of the fire and the number of people involved."
Guinness Care and Support, which owns and manages the premises, said seven of the 26 flats were damaged in the fire.
A spokeswoman for The Guinness Partnership said it had set up a reception centre in a local hotel.
She said: "Our priority at this time is to ensure that all residents affected by the fire are safe and cared for.
"The fire brigade advises us that seven of the homes have been badly damaged so we are working to identify suitable, local alternative accommodation for our residents."