Man jailed for stabbing Croydon PC Nigel Albuery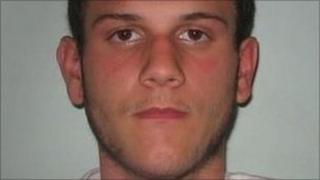 A man who stabbed a police officer in south London has been sentenced to 10 years in jail for the offence.
Alastair Gregson, 18, of Purley, knifed PC Nigel Albuery, 34, in Waddon in May, Kingston Crown Court heard.
Gregson admitted a charge of grievous bodily harm with intent and will serve a minimum of six years.
The defendant, of Whitefield Avenue, attacked PC Albuery who had stopped him and a group of teenagers, during a routine patrol, on 19 May.
The judge also sentenced Gregson to a two year consecutive jail term, on an ABH charge, for an attack on an 18-year-old woman, five days before he stabbed PC Albuery.
'Destroyed confidence'
During the search, Gregson stabbed the officer four times and fled the scene, the court heard.
He was one of four teenagers arrested following the incident, but the other three were later released without charge.
In a statement PC Albuery said his life was "turned upside down" by Gregson's actions.
He described how being stabbed upset his career and family plans and "destroyed his confidence".
"I have also suffered scars that will be a constant reminder to me and my family of what happened that night," he told the court.
Ch Supt Adrian Roberts, Croydon's borough commander, said the stabbing was completely unprovoked.
"Gregson clearly had no regard for PC Albuery's life when he made the decision to stab him, not once but four times," he said.
"The sentence Gregson received will see him locked up behind bars for a long time which is where he belongs."