Man arrested over arson at flats for elderly in Croydon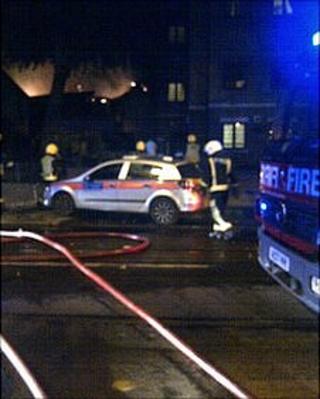 A 38-year-old man has been arrested on suspicion of arson following a fire in sheltered accommodation flats for elderly people in south London.
Residents were evacuated in the early hours of Tuesday because of the fire at Guinness Court in Leafy Way, Croydon.
A woman, 72, who was among seven people taken to hospital, is in a serious condition after breathing in smoke.
Police are linking the blaze at the flats to two other fires which were reported in the area on Tuesday.
The man, who was arrested in Croydon on suspicion of arson with intent to endanger life, remains in police custody.
Some 40 firefighters tackled the fire at Guinness Court for hours after the blaze was reported at about 01:00 BST.
In total 16 people were rescued.
Guinness Care and Support, which owns and manages the premises, said seven of the 26 flats were damaged.
Potential witnesses
Police have linked incidents in Clyde Road and Lansdown Road to the blaze in Leafy Way.
In Clyde Road, a wheelie bin and a vehicle were reported to be on fire at 00:43 BST, and at 01:38 police were called to reports of two skips burning in Lansdown Road.
Officers have appealed for three potential witnesses - two women in their 50s and a teenage girl - to come forward.
Det Sgt Tim Hammond said: "I am very keen to trace the women and teenage girl who I believe were together in the Canning Road area of Croydon.
"I must stress that they are not suspects but I am led to believe they may have witnessed vital information which could assist us."
Most of the elderly residents have been re-housed by the council.