England riots: The 'good' news which followed the bad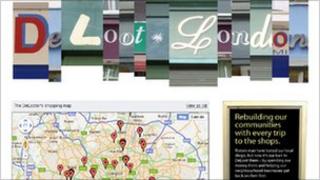 The feelgood stories keep on coming following the shock and disbelief felt by so many who watched as riots swept through some of England's cities.
A website has now been set up which aims to help every small business in London affected by the disorder in the capital.
De-Loot London uses a map to show potential customers where to find shops, which could use support so they are not forced to close down.
Organisers also want people who wish to add their shop to the site to contact them.
Chris King, co-founder of De-Loot London, said: "Heart-breaking images were being published of independent shops targeted in the riots and we felt compelled to help.
"Like many we didn't know where to begin, then we decided the best way was to get people into the shops to get them back on their feet and sustain their business."
Ruined in a night
He described the website as a collaboration with all the shops that had signed up and paid tribute to all the independent retailers of London.
"I was amazed by how many independent shop owners there are in London, they are a huge part of their communities, some for over 30 years, and they give so much to the local people."
He added: "It is inspiring, they have passion, they truly care and in one night some of these people's shops, which they have ploughed everything into, were ruined."
When clicking on each shop on the map a description comes up of the shop, the damage done and what people can buy.
Mr King said they were in it for the long term: "Long after the media attention is gone, we want to still be here helping these people find their feet.
"We've had a huge response and we will continue with a long term strategy."
A number of website campaigns have been launched in the wake of the riots.
First came the clean-up websites which called on people to join community clean-ups in both London and Manchester.
Aaron Biber's barber shop was among those wrecked by looting in Tottenham.
The 89-year-old, who has been cutting hair for 40 years, thought he had lost everything when his shop was ransacked, as he had no insurance.
When word got out about his plight the website "Keep Aaron Cutting" came to the rescue.
Donations raised £35,000 and the website has now closed.
On it Mr Biber's nephew Eddie praised those who helped.
"Knowing that the shop will be secured and repaired, has given him the strength and heart to continue cutting hair for a lot more years to come.
"He really is at a loss for words of gratitude and has told me he thanks everyone from the bottom of his heart."
An online campaign has also raised thousands of pounds for the Malaysian student who made the headlines after footage of him being mugged was posted on Youtube.
Asyraf Haziq, 20 was filmed lying bleeding on the street in Barking when he was mugged and robbed by a gang.
A webpage was set up "Do something nice for Ashraf" and raised over £25,000.
The Tottenham Fund, set up by Haringey Council, to help people affected by the recent disturbances has attracted donations of around £16,000 in its first few days.
Haringey Council leader Claire Kober said: "The scenes we saw here were devastating, but the community response has been truly uplifting.
"People have been so generous and I am confident that with the fantastic backing of residents and traders we can get Tottenham back on its feet."