Asyraf Haziq: Student to give half of raised money away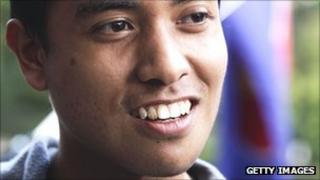 The Malaysian student mugged by robbers who posed as Good Samaritans after he was attacked by rioters in east London has said he will give away half the money that has been raised for him.
Youths went through Asyraf Haziq's rucksack taking his mobile phone, portable Sony PlayStation and wallet in Barking, on 8 August.
A fund to help the 20-year-old, who had his jaw broken, raised about £22,000.
He said he would give the money to other victims of the violence.
The money was raised by the public after footage of the attack was posted on YouTube.
At a press conference he said he did not "really know what to do with so much money".
He expressed his appreciation for the help he had received since he was attacked, adding: "There are lots of other victims who haven't had the same publicity.
"I think there's a lot of other victims that need help as well."
Asked whether such an incident was likely to have happened to him in Malaysia, he said: "Our country is well-organised and the police do their job more efficiently."
But he added he had faith in British justice.
His mother, Maznah Abu Mansor, 47, recently arrived from Malaysia to see her son who had come to London to study accountancy.
Safe place
She said "nothing compares to the relief of seeing him recovering", and that she was "shocked" to see the violence and looting having thought of London as a safe place.
Despite his recent experience Asyraf said England is "lovely with lots of very nice people who have been very kind".
He explained he does not come from a wealthy family and had to get a scholarship to make it on to the two-year course.
Reece Donovan, 20, of Chadwell Heath, Romford, Essex, is accused of robbing Mr Haziq.
He will appear at Wood Green Crown Court on Friday for a plea and case management hearing.