London riots: Man, 70, was the oldest arrested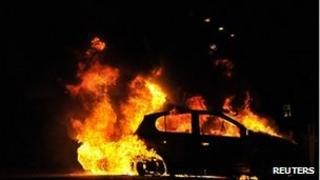 The oldest person arrested for the violence and looting in London is aged 70, police have said.
The unnamed man was held in connection with the theft from a shop in West Ealing, west London, on 8 August.
He was released after receiving a police caution.
Police said the oldest person charged in connection with the disorder was John Maughan, 63, from Camden, north London, who is accused of handling stolen goods.
He is due to appear at Blackfriars Crown Court on 9 September.
The Metropolitan Police has said it is investigating almost 3,300 offences following the riots and looting in London.
It said 1,883 people had been arrested and more than 1,074 charged in connection with the disorder between 6 and 9 August.
The most common crimes were burglary (1,101), damage to vehicles (399), theft (310) and arson (162).
The Met said it had more than 1,100 crime scenes in 22 boroughs, and 20,000 hours of CCTV footage to review.
Figures from the force also show that 396 juveniles have been arrested, of which 218 have been charged.