Harrow hit-and-run: Father appeals after son, 9, hurt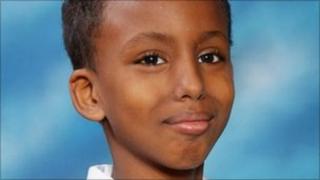 A nine-year-old boy has been left with serious head injuries after a hit-and-run crash in north-west London.
Ayub Ahmed is said to be in a critical but stable condition after the crash in Church Lane, Harrow, on Saturday night.
Police are looking for the driver of a dark car which failed to stop and was last seen heading from Church Lane towards Bushey.
The boy's father, Abdirishid Sharmarke, 45, has made an appeal for anyone with information to come forward.
Mr Sharmarke said Ayub was walking home with his family when the car hit him.
'Active and intelligent'
"Ayub was with his mother when he got hurt and I got a phone call from a friend to say he was bad.
"I rushed to see him and went to the hospital.
"He is a bright, active and intelligent boy who goes to Belmont Middle School and is now in intensive care at Great Ormond Street Hospital.
"I am concerned about his condition and don't know when he is going to come out."
The impact of the crash pushed Ayub into a car parked at the side of the road. The driver involved left the scene at speed.
Police said the car involved was likely to have sustained some damage to the bonnet, wing and headlights.
Officers believe the vehicle might have a pink light cluster or pink headlight lens which would have been damaged.
Det Insp Simon Pilbeam from the Road Death Investigation Unit said: "An investigation is ongoing to locate the car involved in this incident and it clearly would be better for the driver to contact police first and not to wait for police to identify and arrest them."